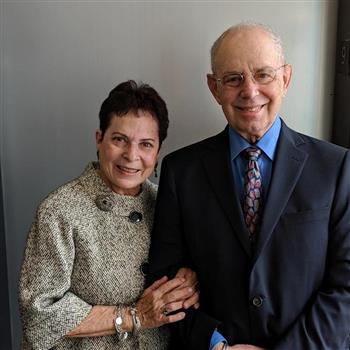 Edit in profile section
Debbie and Paul: Money buys Science. Science extends Life. We are committed to giving until it's done. Join us.
Deborah Horwitz & Paul Nierman
Deborah Horwitz & Paul Nierman
Our precious grandson is 8 years old and is growing tall and strong. He plays with friends and with his little sister who adores him. We love his curly hair, sunny smile, fast pitches and funny jokes, his clever game strategies and natural acting in plays. Mix into his busy life his daily 25 treatments: multiple enzymes, antibiotics, inhaled nebulizer treatments, breathing treatments & airway clearance therapies, basic nutrition through a surgical port in his tummy -- add these up and this means that when he is "healthy," he loses 15 entire days each year just to stay that way. His rare mutation is the most severe to live with and hardest to fix. Researchers are working on several paths to effective treatments and a cure for his rare mutation -- but these are still far in the future. GIVE NOW to bring the future closer.